History of Kovolis Hedvikov dates back to 1816, when Zvěřina´s family founded an iron factory in Hedvikov valley. Since then the company come a long way and has experienced several major milestones. But two things have not change in more than 200 years – the Hedvikov valley is still home of our company and the culture remains family-friendly.
Zvěřina´s family founds an iron factory in Hedvikov valley.
Company starts to produce continuous pressure brakes, thereby stabilize the production profile of the company. At the same time it is taking part in the modernization of the railway from Čáslav to Třemošnice.
Josef Bartoš, the then owner, buys patent for production of casting machines and introduces the first production of pressure-cast castings in the Czech Republic.
Company specializes in pressure casting of aluminum. At the end of the year, thanks to military production from the Second World War, is the company on the basis of the Beneš ´s Decrees nationalized. 
The company is named Kovolis and becomes the leading plant of other companies in region.
The entire production park and technical background of brake components, which have been the main product of the company since 1950s, move to new plant in Třemošnice. Released hall in Hedvikov returns to its earlier purpose, production of pressure castings.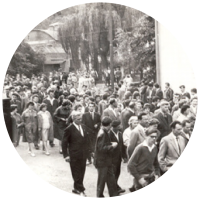 In honour of the 150th anniversary of the factory ´s foundation, a sculpture of Foundries by academic sculptor Blažena Borovičková – Podpěrová is installed in the area.
The company gets to private hands in small privatization.
The joint stock company KOVOLIS HEDVIKOV is established. We obtain certificate of the management quality system according ES ISO 9001:1994 with a number of VDA 6 elements, which entitles us to produce automotive parts.
We expand production and launch a new plant in Ronov nad Doubravou. Thanks to this, we are able to achieve sales that exceed the limit of CZK 1 million per employee.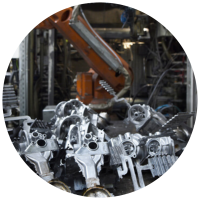 We are starting major modernization of workplaces, which includes large investment in the purchase of the latest robots and machines.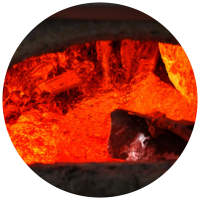 We are purchasing top-class melting furnace Striko Westofen and we become first pressure foundry with ISO/TS 16949:1996 certification in the Czech Republic. In March, we are handing to Webasto Thermosysteme company casting number 1 250 000.
We comply with our employee's wishes and introduce flexible working hours, extend holidays by one week and expand the possibilities of further training.
We build new tool shop, which helps us to reach the domestic top in production volume and technical level. By purchasing the most modern technologies we minimize our impact to environment.
As part of the largest investment so far we buy a fully robotized workplace Bühler 840. At the same time we install new wastewater treatment plants Aquastar. We build sheltered workshop for 12 people with reduced working ability.
For the first time we exceed the limit of 500 tons of aluminium castings and 1 billion CZK in sales. We significantly increase our support for individuals, teams and events in the field of culture and sport.
We start serial production for our important customer, Wabco.
We install first casting workplace Toshiba DC800J C1, which opens door to Japanese customers and ensures access to new technologies.
We invest almost 1 billion CZK and build a new foundry hall. This significantly increases production and sells over 6 300 tons of aluminum castings.
Mr. Miloslav Pavlas is awarded Entrepreneur of the year 2011 of the Pardubice region.
We become the first foundry in Czech Republic, which use semi-solid casting technology, Rheocasting. We increase sales and production volume. These exceed 1,3 billion CZK and 7572 tons aluminium castings. Our support of Technical high school in Třemošnice helps save this school from closure.
TÜV NORD confirms to us by certification that we meet all requirements of the environmental management system according to ISO 14001.
We reach maximum of casting capacity a record turnover 2 billion CZK. We purchase a former guesthouse in Vapenný Podol, which we rebuild to hostel for our employees.
We celebrate 200 years since the start of production in Hedvikov valley and also 20 years since foundation of the joint stock company.
27th of September become the only owners of the company Mr. Miloslav Pavlas and his son.
We install 2 new cast robotized workplace, machines Bühler with closing forces 840 a 530t.
We finish construction of new storage facilities in a branch Ronov nad Doubravou. We invest to automatic deburring of parts for electric vehicle´s heating. 
We get first CNC machine with 4 spindles.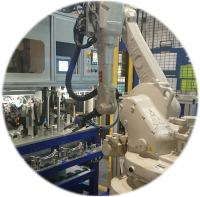 We robotize and automate the machining line for PSA and Opel. We complete implementation of PLM sw TeamCenter (life cycle management). We put automatic robotic deburring into operation for the customer Wabco.
We complete and approved new space for machining and assembling in branch Ronov nad Doubravou, we get ca.1200m2 for other technologies.
We have more than 200 years of work behind us, but we need to focus on what we have before us. We plan to expand the production capacities of the foundry and machine lines with using a high degree of automation and robotics. We want to continue in introduction the latest technologies, especially rheocasting methods.
This will allow us to produce even the most complicated castings, which will get us to awareness of even more companies and brings us new contracts. We also think about changes in automotive industry in global and therefore we are ready to expand our projects towards the electromobility.